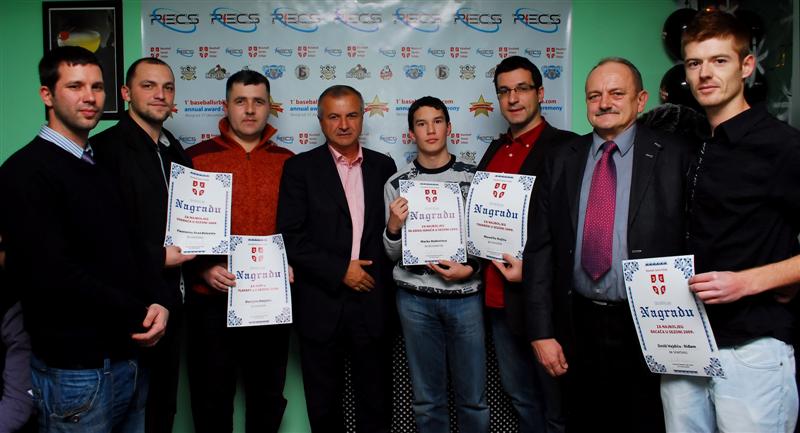 U nedelju 27.12. dodeljene su nagrade za najbolje u sezoni 2009. Pred dodelu nagrada komesar lige Sinisa Spasic odrzao je prigodan govor u kome je izmedju ostalog rekao: "Čestitamo najboljima u 2009, od 2010. očekujem mnogo i radujem se budućim vikendima provedenim da zelenoj poljani uz stara rivalstva i nove baseball okršaje…"
Plakete je predao podpredsednik Sportskog Saveza Srbije g-din Velizar Đerić:
– najbolji pičer – Siniša Vajdić – Ridji (Bk Spartans)
– najbolji udarač – Vlastimir Aranđelović (Bk Spartans)
– najbolji trener – Momčilo Kojić (Bk Vojvode)
– MVP playoffa – Danijel Kozjak (Bk Vojvode)
– najbolji mladi igrač – Marko Badovinac (Bk Beograd'96)
Još jednom sve čestitke.
On Saturday 27. December 2009 in Vamos cafe Baseballsrbija.com in association with Serbian Baseball Federation organised the award winning ceremony to announce best performers in 2009 season. The event was sponsored by the domestic company PECS. In front of 60 guests the vice president of National Sports Federation of Serbia Mr. Velizar Djeric together with league commissioner Mr. Sinisa Spasic presented the awards to the winners, Marko Badovinac of Belgrade'96 won the Best Young Player, Momcilo Kojic, Vojvode Zemun coach, won the Best Manager, Sinisa Vajdic Ridji of Spartans Belgrade won the Best Pitcher, Vlastimir Arandjelovic won the Best Hitter and Danijel Kozjak was chosen for the 2009 Playoffs MVP. There was one surprise award that went to Nikola Bazik, fan of Belgrade Spartans, for the best supporter. With this event the 2009 season is concluded, some basic grounds and standards are set for the following season and Serbian Baseball made a huge step toward improving organisation within domestic league mostly because of the League Commissioner Mr. Sinisa Spasic and Offical Scorekeeper Mr. Ranko Ivanic efforts to keep it well organised.